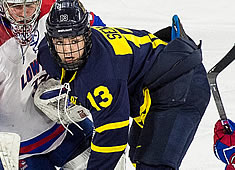 Merrimack senior forward Brett Seney has been named our Micro Ice Training Centers Warrior of the Week after scoring two goals and adding an assist in Merrimack's 5-2 win over Bentley on Friday  night at Lawler Arena.
All three of Seney's points were scored on the power play and he how has eight points (4 goals, 4 assists) in 10 games this season.
Other Micro Ice Warrior of the Week winners from this season include: Craig Pantano (11/7), Jace Hennig (10/30), Jared Kolquist (10/23), Alfred Larsson (10/16) and Ludvig Larsson (10/9).
---
REGISTER FOR PROGRAMS AT MICRO ICE
PLAY FOR MICRO ICE YOUTH TEAMS
Micro Ice is located just down the street from Merrimack College on Flagship Drive. At their facility, they've recreated a small pond, where players develop the most important ice hockey skills like puck possession, stick-handling skills, and skating ability. High-quality repetitions done in a fun, creative way is why Finland and Sweden are developing some of the most skilled players in the world, and Micro Ice is mimicking their training model.
The goal of Micro Ice training sessions is to provide the same opportunity for kids in this area while having fun. Micro Ice has always been on the cutting edge of hockey development. USA Hockey, Hockey Canada, and other countries are all following suit and having their youngest players learn the game by playing on smaller surfaces. If a player is successful at Micro Ice, their skill set easily transfers to a full sheet of ice.
While offering training for players of all ages, Micro Ice also has its own youth hockey program, with its teams playing locally in the Valley Hockey League. Former Merrimack forward and current Director of Analytics David Breen is the program director at Micro ice.
[tribulant_slideshow gallery_id="1″]