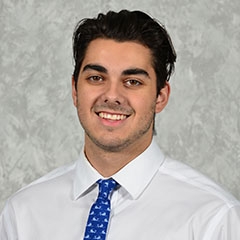 The Merrimack men's hockey team has received a commitment from 1998-born forward Ben Brar, who is currently in his fourth season of BCHL play for the Prince George Spruce Kings.
Measuring 6-foot-2, Brar has 41 points (23 goals, 18 assists) in 40 games this season. Last season Brar had a breakout offensive year, scoring 54 points (25 goals, 29 assists) in 57 games and then he turned in eight goals and 10 assists in the playoffs. The Abbotsford, B.C. native has appeared in 209 career BCHL games and has 136 points on 73 goals and 63 assists.
Related — Check out our Merrimack Men's Hockey Recruit Tracker
Brar's 23 goals this season are tied for sixth in the league.
"He has such a high hockey IQ," said Spruce Kings head coach Adam Maglio. "We see it probably more than others what he does out there that makes him valuable. Because of that, the points are coming for him."